Germantown Residential & Commercial Plumbing Services
Badgerland Plumbing provides residential and commercial plumbing service to Germantown, WI and the surrounding areas of Richfield and Friess Lake.
Whether you live in the city or in the country, our master plumbers will travel to your location for any emergency or non-emergency plumbing call. Take advantage of our quality work, professional skills and knowledgeable staff for your next plumbing project. To schedule a plumbing service, call us at (262) 623-7009.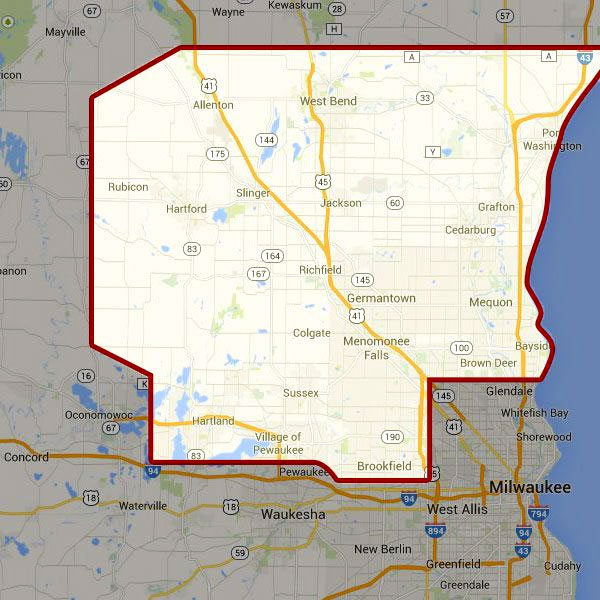 Germantown Home Plumbers
Whether you have a new construction or remodel project, our residential plumbers will ensure your project is completed in a professional and timely manner. At Badgerland Plumbing we specialize in fast, friendly service that is done right the first time. If you reside in Germantown or the surrounding areas and are looking for Germantown plumbing companies, our experts will provide services ranging from faucet installations, drain cleaning, toilet repairs, shower installations, well installations, pump replacements, water heater repairs, water softener repairs, water filtration and entire home plumbing projects. Add another bathroom in your home or call us to repair or replace your broken water heater. No matter the job, our plumbing experts will provide you with the care and knowledge you deserve.
Here is a list of some of the specific residential plumbing services we provide. If you need a residential plumber at your location, call today (262) 623-7009.
Germantown Kitchen and Bathroom Plumbing
Germantown Drain Cleaning
Germantown Water Heater Repair & Replacement
Germantown Water Softeners & Water Filtration
Germantown Commercial Plumbers
If you own a small business or a multi-tenant complex such as an apartment or office building, contact us for a commercial plumber. Badgerland Plumbing provides full remodels, drain cleanings and plumbing repairs or replacements to business owners in Germantown, Richfield and Friess Lake. Whether you need plumbing installed in a kitchen, bathroom or other commercial property, our Germantown plumbers can handle the job. We provide free estimates on plumbing services, so take advantage of this great offer today and call us at (262) 623-7009.